News in 2021

Ready to support Young Surveyors as a Mentor?
Or know someone who might be interested in this?
February 2021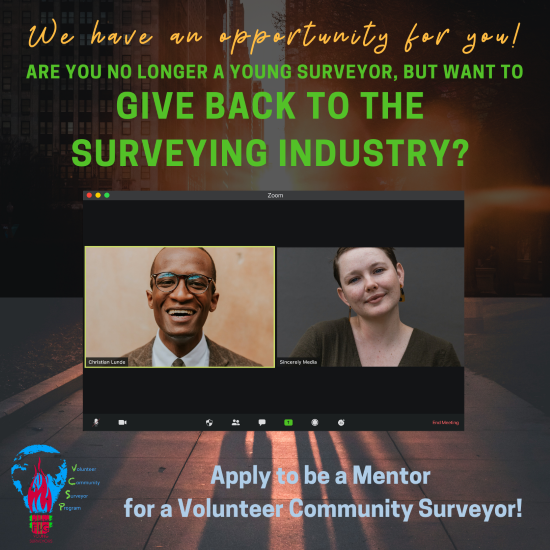 If you are looking to become involved with the Volunteer Community Surveyor Program but you do not fit the 'Young Surveyor' criteria, here is your chance. Become a mentor for a Volunteer Community Surveyor (VCS). We have created this questionnaire, which is accessible by clicking the 'Apply now' button at the bottom of this email. Once you have completed it, we will add you to our Mentor list. This way, in the event that we may not need you immediately, we can call on you in the future.
Should you be chosen to be a VCS Mentor, our expectation is that you are available online from two weeks prior to the VCS's deployment through to two weeks after their deployment. Of course, within your agreed hours. The deployment lengths are usually between 4 - 6 weeks but may be extended if all parties are comfortable. We have two in-Country deployment projects approaching quickly (in March and in April 2021).
The first deployment is through our partnership with the Cadasta Foundation. Cadasta provides a global platform and digital tools to help marginalized communities and individuals document their land, property, and resource rights. We are seeking a volunteer based in Tanzania to support their work in Tanzania and other East African countries.
The second is a follow up to our Pilot in 2017 through our ongoing partnership with the Global Land Tool Network (GLTN). The GLTN is an alliance of international partners contributing to poverty alleviation and the Sustainable Development Goals through increased access to land and tenure security for all. Our deployment with GLTN are likely to be in Kenya and Uganda, with local VCSs chosen.
During the COVID19 pandemic, it would be irresponsible of us to deploy VCSs across continents and borders. For this reason, we are looking for local VCS's to minimise the health risk for our young surveyors. In the longer-term though, we will be looking to deploy VCSs all around the world.
If you think this is an opportunity for you, please click the green button below to apply. Or, if you're a Young Surveyor yourself but know someone who would be a great Mentor, please forward this information to them.

Louise Friis-Hansen
27 February 2021