International Federation of Surveyors
Fédération Internationale des Géomètres
Internationale Vereinigung der Vermessungsingenieure

FIG Newsletter – June/July 2018
---
Dear Colleague,
Welcome to the June/July issue of FIG Newsletter. In this newsletter you can read the report from the successful Congress that was held in Istanbul in May. Do also have a look at the photo gallery and if you have not yet seen the video that was made for the closing ceremony showing the highlights of the congress, the video is still available. The minutes from the General Assembly are also available. The call for papers for FIG Working Week 2019 is out.
If you have any questions about FIG you are welcome to contact us at fig@fig.net
---
FIG General Assembly 2018 - minutes
| | |
| --- | --- |
| General Assembly 2018 | The minutes from the General Assembly on 6 and 11 May 2018 in Istanbul, Turkey have been published on the FIG web site and has been sent to all members. A letter incl the latest publications has been sent by post to all members. If you have not received the letter to your organisation by the end of August, please contact FIG Office at FIG@fig.net. At the General Assembly there were election for the new president for the term 2019-2022, two vice presidents, commission chairs and the destination for the FIG Congress 2022. |
---
Article of the Month
Each month on the FIG web site we publish a paper called the Article of the Month.
June 2018: Wan Anom WAN ARIS, Tajul Ariffin MUSA, Kamaludin MOHD OMAR and Abdullah Hisam OMAR, Malaysia: Non-Linear Crustal Deformation Modeling for Dynamic Reference Frame: A Case Study in Peninsular Malaysia. The paper was selected to receive the navXperience AWARD in cooperation with FIG Commission 5. This Peer Review paper was presented at the FIG Congress 2018 in Istanbul, Turkey. The Paper develops innovative methods to model non-linear crustal movements and consider these models for non-static reference frames.
July 2018: Kwabena Asiama et al. (Netherlands): Land Valuation in Support of Responsible Land Consolidation on Ghana's Rural Customary. The paper was awarded the Survey Review Prize, and has passed through the reviewing and revision stage overseen by FIG, before being judged by members of the Editorial Board of Survey Review. The paper deals with an important subject and has implications for many other countries in which customary land rights apply.
---
FIG Congress 2018 – Report incl photo gallery



At the opening Ceremony, a very talented teenage dance academy performed for the more than 2300 participants.




The Congress, organised by FIG and the Turkish Chamber of Survey and Cadaster Engineers (CSCE), took place 6 – 11 May 2018 in Istanbul, Turkey. The overall theme of the large 4-year Congress was: Embracing our smart world where the continents connect: enhancing the geospatial maturity of societies

Over 2300 participants found their way to the beautiful city of Istanbul and contributed to the lively, active and successful congess.
Sponsors and Supporters
A special thanks for our FIG Congress Sponsors and Supporters for making this conference possible: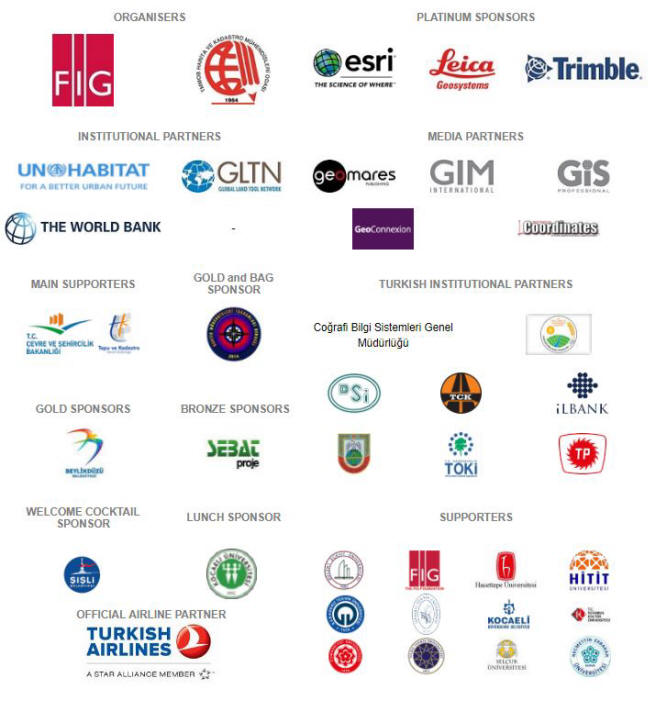 ---
FIG Activties and visits
RISM 20th International Surveyors Congress

The Royal Institute of Surveyors Malaysia (RISM) and the Association of Authorized Land Surveyors Malaysia (PEJUTA) organized the 20th International Surveyors' Congress at Istana –Hotel in Malaysia's capital Kuala Lumpur. FIG Vice President Rudolf Staiger was invited to give a keynote speech at the 20th International Surveyors' Congress in Kuala Lumpur. Malaysia.
http://fig.net/news/news_2018/06_rism.asp
---
FIG Working Week 2019 - Call for Papers
The FIG Working Week will be the major event in 2019 in the global community of surveying and geospatial professionals. It is organised by FIG - International Federation of Surveyors and VGCR - Vietnam Association of Geodesy, Cartography and Remote Sensing. The main objective of the FIG Working Week is to bring together experts from academia, governments/public administration and industry to report on recent developments, trends and research results. The main theme of the Working Week 2019 is: Geospatial information for a smarter life and environmental resilience
The Call for Papers is now published: http://fig.net/fig2019/call.htm
Please note the deadlines: 1 November (abstracts, regular papers) and 1 October (full paper, peer review)
---
News from Commissions
Commission 5&6/10 grants to Young Surveyors - Geo PreVi 2018
Geo PreVi 2018 Symposium "Geodesy for Smart Cities" will take place in Bucharest, Romania 29-30 October. The technical program is mainly organized by help of FIG Commission 5, 6 and 10 dealing with Positioning and Measurement, Engineering Geodesy and Construction Economics and Management. The organizing committee will support young surveyors from Romania and abroad.
More information: http://fig.net/organisation/comm/5/index.asp
Commission 7 annual meeting

24-26 September 2018 in Bergen, Norway. More information
Participate in Survey on the value of geoinformation
The working group "Geoinformation and Geodata Management" of the German Society for Geodesy, Geoinformation and Land Management (DVW) would like to carry out a comparing investigation to the "Value of Geoinformation". Therefore a questionnaire was developed with particular focus on Open Geo Data. Goal of this questionnaire is to monitor experiences from open geo data providers. Within 7 questions only the content, access and use of the provided geo data are being checked. The questionnaire is now available following this link: https://lfg.fb1.frankfurt-university.de/546466?lang=en
All replies will be treated in strictest confidence. The information given will only be used for monitoring and assessment purposes and will be published as open data.
Newsletters
Commission 5:
Commission 3: Report from FIG Congress
Commission 9: Newsletter June 2018
---
---
Events
04-09 September 2018 , Baku, Azerbaijan
Eurasian GIS Congress 2018 - Selcuk University
Web site
18-20 September 2018, Suva, Fiji
The Fiji GNSS CORS workshop supported by FIG Asia/Pacific Network (AP CPN) and FIG Commission 5
24-26 September 2018, Melbourne, Australia
The International Symposium and Workshops on "A Smart Sustainable Future for All 2018". Organised by the University of Melbourne's Centre for Spatial Data Infrastructure and Land Administration (CSDILA) and Centre for Disaster Management and Public Safety (CDMPS), in co-partnership with The World Bank. Web site
24-28 September 2018, Bergen - Norway
FIG Commission 7 Annual Meeting and International Seminar on "Cadastre in a digital world - Nordic and Global Perspectives" Organised by FIG Commission 7
Web site
Invitation
15-18 October 2018, London, United Kingdom



The Year in Infrastructure Organised by Bentley.
Web site
1-5 October 2018, Delft, The Netherlands
1-5 October: ISPRS Technical Commission IV Symposium 2018 (BGC Geomatics) Web site
1-2 October: 13th 3D GeoInfor Conference. Web site
2-4 October: 6th International Workshop on 3D Cadastres, organised by FIG 3D Cadastre Working group, Web site
4-5 October: 3rd International Conference on Smart Data and Smart Cities Web site
16-18 October 2018,
Frankfurt am Main, Germany InterGeo. Organised by DVW.
Web site
17-18 October 2018, College Park, Maryland, United States
FIG Young Surveyors North America Meeting
Flyer
Web site: https://www.nsps.us.com/page/YSMeeting
23-25 October 2018 RMIT University in Melbourne, Australia
The10th Multi-GNSS Asia (MGA) Conference, supported by FIG Commission 5
Web site: https://2018.mgaconference.com.au/
29-30 October, Bucharest, Romania,
GEOPREVI 2018, Geodesy for Smart Cities, Joint Seminar of FIG Commission 5, 6 and 10
Web site: https://geoprevi.xyz/
7-11 November 2018, in Athens, Greece
FIG/UNECE/UIA/CEEC conference: "Impact of Megatrends and Solutions for the Built Environment and Real Estate"
Incl FIG Hand-Over event.
More information yet to come.
7-9 November 2018, ChengDu China
CHINTERGEO 2018 - China Surveying and Mapping Geographic Information Technology Equipment Exhibition.
Web site: http://www.chintergeo.com/en/index.html
26-30 November 2018 Suva,
Fiji Pacific Islands GIS and RS User Conference 2018: Transforming Pacific Resources and Infrastructure Management using GIS & RS
Web site
Flyer
3 December 2018, Helsinki, Finland
Smart Land Administration Seminar, a Slush Side Event, organised by National Land Survey of Finland (NLS), Aalto University, the Finnish Location Information Cluster, and the World Bank. The side event is held in conjunction with SLUSH (www.slush.org).
More information
2019
FIG Working Week 2019
Web site
---
FIG on Social Media




Remember that you can follow FIG on the social media.
If you have not already joined, join us today:
Facebook: https://www.facebook.com/#!/internationalfederationofsurveyors
Twitter: https://twitter.com/FIG_NEWS
LinkedIn: http://www.linkedin.com/groups?gid=2669121&trk=myg_ugrp_ovr
Instagram: https://www.instagram.com/figsurveyors/
---

The monthly Newsletter is mailed to all members, commission delegates and all interested partners. FIG offers the Newsletter to all members of member associations and other interested in FIG. If you don't already get your copy you can order it now at: www.fig.net.

FIG Newsletter brings you latest information about FIG and its activities. The information referred here is in full length available on the FIG web site. Thus the Newsletter is produced to inform you what has happened recently and what interesting things are going to take place in the near future. The FIG Newsletter is circulated monthly or bi-monthly by e-mail. The referred articles are in English and written in a way that you are able to extract them to your national newsletters or circulate to your members and networks.

If you do not want to receive the newsletter in the future, please click here to unsubscribe from the mailing list
.
---
Kind regards,
Ms. Louise Friis-Hansen
Director
International Federation of Surveyors
Fédération Internationale des Géomčtres
Internationale Vereiningung der Vermessungsingenieure
International Federation of Surveyors
Kalvebod Brygge 31-33
DK-1780 Copenhagen V
Tel. + 45 3886 1081
Direct: + 45 9391 0810
louise.friis-hansen@fig.net


www.fig.net
Subscribe monthly FIG Newsletter at: www.fig.net
Join FIG at LinkedIn: http://www.linkedin.com/groups?gid=2669121&trk=group-name
Join FIG at Twitter: https://twitter.com/FIG_NEWS
Join FIG at Facebook: https://www.facebook.com/#!/internationalfederationofsurveyors
Join FIG at Instagram: https://www.instagram.com/figsurveyors/