International Federation of Surveyors
Fédération Internationale des Géomètres
Internationale Vereinigung der Vermessungsingenieure

FIG Newsletter – December 2020
---
Dear Colleague,
So that was it... 2020...?
Well, the content of this newsletter shows that although it has not been possible to travel and to connect in the way we are used to this does not stop the many activities in and around FIG. In fact it opens for other possibilities and ways to work and to connect. Read about the most recent undertakings, online meetings, progress on the surveyors contributions to the SDGs, and during this holiday season please do not forget the deadline 4 January 2021 for the submission of abstracts for the e-Working Week 2021 - this time a virtual experience.
Happy New Year and the wishes for a better 2021 to all!
---
Seasons Greeting and a Happy New Year!
Joyeux Noël et Bonne Année
Fröhliche Weihnachten und Ein Gutes Neues Jahr
Feliz Navidad y Prospero año nuevo!
Kul sanna wa'intum b'kheir
새해 복많이 받으세요!
Glædelig jul og godt nytår


Please note that FIG Office will be closed from 23 December 2020 until 4 January 2021.
---
Article of the Month
Each month on FIG web site you can find a special selected paper called "FIG Article of the Month".
The Article of the Month for December 2020 is written by Lisette Mey, Netherlands And Laura Meggiolaro, Italy Land Governance Lost in Translation - Exploring Semantic Technologies to Increase Discoverability of New Technologies & Data This paper is about the language and technology barriers that constraint to effectively exchange and learn from land data, information and technologies across the globe... Read the article
---
FIG e-Working Week 2021 - Call for Papers
The e-Working Week opportunities
The fact that the Working Week has been transformed to take place virtually brings in new opportunities. This special e-Working Week will be accessible from all over the world, allowing the whole FIG Community with over 250.000 members from 120 countries to join in the event. From the organizing side we will do our utmost to bring together an unforgettable conference with possibilities to make meaningful connections with our sponsors, attendees and speakers, as well as attend sessions designed to be interesting, innovative and engaging.
Call for Papers
The theme for FIG e-Working Week 2021 will be the same as for the Working Week 2020 – however with an addition to reflect on working with and adapting to new realities; in this case the impact of COVID-19 on our profession:
Smart Surveyors for Land and Water Management
Challenges in a New Reality
Besides the subthemes Smart Surveyors, Integrated Land and Water Management and Ten Years to Achieve the SDG's, we want to focus on the surveyors and the challenges they have in an unstable, uncertain and unpredictable world and with what technology, methods and procedures they face these new developments. How do surveyors adapt to these unexpected circumstances and what have we learned so far from these challenges?
This Call for Papers is announced both for peer review papers and non-peer review papers.
NOTE THE DEADLINE: 4 January 2021.
Sponsorships
A virtual event gives a different opportunity to get close to the participants and to reach out to specific target groups Currently we are working on attractive sponsorship packages, and if you have an idea for your specific sponsorship please contact Claudia at csp@fig.net.
FIG and the local organisers from the Netherlands are working on a unique event based on -
FIG e-Working Week 2021 will inspire & connect
FIG e-Working Week 2021 will be a global event
FIG e-Working Week 2021 will bring qualitative good sessions​
FIG e-Working Week 2021 will provide an attractive virtual programme​
FIG e-Working Week 2021 will provide an opportunity to exchange knowledge​
FIG e-Working Week 2021 will provide an opportunity to network & socialize​
FIG e-Working Week 2021 will bring different professional groups together​
In other words: After attending FIG e-Working Week 2021 you will be: inspired, (re)connected, energized, gained knowledge, feel part of a community...
---
NEWS FROM FIG
The 8th GLTN Partners Meeting was held online with the theme "Tenure Security as a key element of COVID-19 response and impact on mitigation" and with focus on the implementation of the GLTN strategy and future activities.
Read more
---
This GLTN Partners Meeting side event encouraged a good discussion on the use of FFP, STDM and other relevant tools for land administration.
Read more
---
Surveyors accross its membership in Nigeria were sharing the understanding of the SGs and how Surveyors skills can make our world a better place.
Read more
---
NEWS FROM COMMISSIONS AND NETWORKS
The FIG Volunteer Community Surveyor Program is excited to welcome applications to attend the January 2021 Wisdom Workshop - 'Sustainable Solutions for Land Based Community Problems: Tools and Modern Approaches', scheduled for 29-30 January online.
Read more
---
FIG Commission 7 conducted its annual meeting in an online format in October. The Proceedings including recordings are now available.
Read more
---
| | |
| --- | --- |
| | FAO organised a well-attended webinar on Friday 11 December about the application of land banking instruments in Europe and Central Asia. Chair of FIG Commisison 8 Marije Leuwsma attended with a presentation. See the recording of the webinar. Read more |
---
NEWS FROM MEMBERS
International Geospatial Information Technologies Training Program(GeoITT
Participate in short survey:
Deqing iSpatial Co., Ltd, a corporate member of FIG will carry out a series of international training from January 2021 with support of FIG. The training content mainly includes basic knowledge of geospatial information, satellite remote sensing, UAV technologies, GNSS, GIS, BIM, international geospatial information professional ethics and standards, etc. In addition to the basics and fundamentals of geospatial information technologies, training will be conducted on cutting-edge technologies and products as well as related knowledge. More information on the programme.
The organisers would appreciate your participation in a short survey (3-5 minutes of your time): https://kwiksurveys.com/s/FdodHQpb
---
NEW PUBLICATIONS
This report from Kadaster, the Netherlands, shows the importance of fostering strategic partnerships amongst all land sector stakeholders - government, private sector, NGOs, and academia. FIG e-Working Week will also cover this topic.
Read more
---
EVENTS
22-24 February 2021, Cairo, Egypt - the event also takes place virtually
Second Arab Lands Conference organised by Egypt Housing and Building National Research Centre represented by the Urban Training and Studies Institute (UTI) in partnership with UN-Habitat, the Global Land Tool Network (GLTN), the World Bank, the Deutsche Gesellschaft für Internationale Zusammenarbeit (GIZ), and the Dubai Land Department. Web site: https://arabstates.gltn.net/
21-25 June 2021 - virtual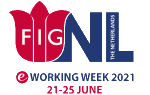 Web site: www.fig.net/fig2021
21-23 September 2021, Hanover, Germany
Intergeo 2021 - Live + Digital, #INTERGEO21
Web site: www.intergeo.de/en/
---
FIG on Social Media:




Remember that you can follow FIG on the social media.
If you have not already joined, join us today:
Facebook: https://www.facebook.com/#!/internationalfederationofsurveyors
Twitter: https://twitter.com/FIG_NEWS
LinkedIn: http://www.linkedin.com/groups?gid=2669121&trk=myg_ugrp_ovr
Instagram: https://www.instagram.com/figsurveyors/
---

The monthly Newsletter is mailed to all members, commission delegates and all interested partners. FIG offers the Newsletter to all members of member associations and other interested in FIG. If you don't already get your copy you can order it now at: www.fig.net.

FIG Newsletter brings you latest information about FIG and its activities. The information referred here is in full length available on the FIG web site. Thus the Newsletter is produced to inform you what has happened recently and what interesting things are going to take place in the near future. The FIG Newsletter is circulated monthly or bi-monthly by e-mail. The referred articles are in English and written in a way that you are able to extract them to your national newsletters or circulate to your members and networks.

If you do not want to receive the newsletter in the future, please click here to unsubscribe from the mailing list
.
---
Kind regards,
Ms. Louise Friis-Hansen
Director
International Federation of Surveyors
Fédération Internationale des Géomčtres
Internationale Vereiningung der Vermessungsingenieure
International Federation of Surveyors
Kalvebod Brygge 31-33
DK-1780 Copenhagen V
Tel. + 45 3886 1081
Direct: + 45 9391 0810
louise.friis-hansen@fig.net
www.fig.net
FIG Working Week 2021, the Netherlands
Web site: www.fig.net/fig2021
FIG Congress 2022, Cape Town, South Africa
15-20 May 2022

FIG Working Week 2023, Orlando, Florida, USA
FIG Working Week 2024, Accra, Ghana
Subscribe monthly FIG Newsletter at: www.fig.net
Join FIG at: