International Federation of Surveyors
Fédération Internationale des Géomètres
Internationale Vereinigung der Vermessungsingenieure

FIG Newsletter – January 2022
---
Dear Colleague,
First and foremost, it is now last chance to submit your abstract for the upcoming FIG Congress - do not miss this opportunity. You can also ensure the visibility of your organisation in the exhibition or as a sponsor - check all the various possibilities.
We are pleased to introduce a new series of articles: "FIG and the SDGs". FIG Task Force on the SDGs has worked together with all commissions and networks to reflect over, detect and define to which goals the commissions and networks are contributing. Many of the SDGs are relevant for surveyors and geospatial experts and the Task Force has defined the 10 goals of most importance to FIG. This time meet Commission 2 and their work with SDG goal 4 on quality education.
"Our FIG young professionals are truly impactful in community projects that they are involved" says FIG Vice President Diane Dumashie after having attended a Young Surveyor VCSP Workshop - read her report from this meeting. Finally FIG has signed a Memorandum of Understanding with Stand for Her Land.
Read on and enjoy this newsletter!

---
FIG Congress 2022 - Check your sponsorship and exhibtion opportunities

The local organisers from SGP - the Polish Association of Surveyors - together with FIG, are fully occupied with the preparations of this special event that has to be organised within a year. The Congress only takes place once every 4 years, and it marks the final year of the current leadership of FIG, the council and commissions and there will be elections for a new President and new Vice Presidents.
Call for papers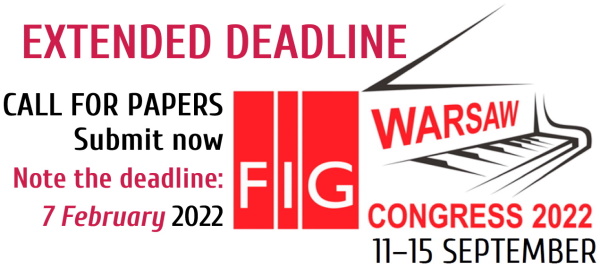 Do you want to contribute to the programme? Do you want your paper to be included in the Congress proceedings?
Normally, we are strict on deadlines... However, several have asked for a few days extra to submit their abstract for FIG Congress 2022 in Warsaw, Poland. We have listened to this and have extended the deadline with a week...
The overall theme is Volunteering for the future - Geospatial excellence for a better living with the sub themes
- Surveyor 4.0,
- The surveying profession in and after covid times
- Open access to data, and
- Surveying competence for other disciplines.
Geospatial excellence and all related professions and topics are now seen in a much broader context and as public goods and beneficial for the well-being and betterment of the entire society.
Network, reconnect, inspire
Discover your sponsorship and exhibition possibilities. Be visible at the Congress - let your organisation be represented among the exhibitors and to be part of this special event. Various sponsorship packages makes it possible to find a sponsorship that fits to your needs and helps your visibility at the Congress.
Have a look at your sponsorship and exhibition possibilities
Get the prospectus in .pdf
Book now to secure your stand!
Be part of this special event
The FIG Congress 2022 gives passionate professionals the opportunity to:
- Learn globally – with participation from around 80-90 countries
- Learn across silos, from other countries, industries and professional roles – with sessions and representation from the broad range of surveyors and geospatial experts
- Make impacts on careers, organizations and communities
Stay updated through the conference web site: www.fig.net/fig2022
The site will be updated frequently with pre-events, technical and social tours, social events, partners and further information of relevance.
---
NEWS FROM FIG
FIG and the Sustainable Development Goals - Commission 2

| | |
| --- | --- |
| | Commission 2 focuses on innovative and effective professional education and training for surveyors. That makes SDG Goal 4 "ensure inclusive and equitable quality education and promote lifelong learning opportunities for all" the most relevant to the work of Commission 2. Read more about how David Mitchell uses the targets and indicators of the SDG's for making higher education more accessible for all potential surveying students. |
---
| | |
| --- | --- |
| | FIG Foundation is pleased to announce the grant offerings of FIG Foundation PhD Scholarship, the Academic Research Grant and Grant to support attendance at FIG Congress 2022. Read more |
---
| | |
| --- | --- |
| | "Our FIG young professionals are truly impactful in community projects that they are involved" says FIG Vice President Diane Dumashie Read her report from the workshop |
---
| | |
| --- | --- |
| | Stand for Her Land Campaign works on making land rights a reality for millins of women around the world. FIG supports this agenda . Read more |
---
| | |
| --- | --- |
| | Now is the time to influence the development of FIG… Please consider potential qualified and good candidates for any of these positions. The positions are volunteer but are high prestigious positions with a large responsibility and commitment. Nominations must be submitted and supported by the national member association. In doubt? Ask a member of the Engagement Committee. Read more |
---
CORPORATE MEMBER OF THE MONTH
A new initiative from FIG has been set in motion to give all Corporate Members the opportunity to increase the attention to their corporation through FIG. The initiative is called 'Corporate Member of the Month' and will be based on information send by you to FIG on initiatives from your establishment e.g., innovative portfolio, profile, or just inspiring initiatives etc. Do you have any news you want to share? Please write to FIG office: FIG@fig.net.
January 2022 - Geomares Publishing
| | |
| --- | --- |
| | The Corporate Member of the Month in January is our long-term member and partner Geomares, known for GIM Magazine, Hydro International and Geo Matching. Read more |
---
ARTICLE OF THE MONTH
The Article of the Month in January 2022 is the final item in the "Video of the Month Series". Reporter Ms. Pauline de Wilde talks with Frank Tierollf ,Sisi Zlatanova, Noud Hooyman, Henk Scholten and Jan Bruijn about how Digital Twin can support to increase legal certainty and, is there a role for FIG to play? Read more and watch the video...
---
NEWS FROM FIG MEMBERS
The Property Research Trust, formally the RICS Research Trust, is looking to commission their first round of research grants since the pandemic struck. I attach our . We are seeking to promote this opportunity directly and also through organisations who have networks of members who might be eligible to apply. Do you have a mechanism such as a mailing list, blog or newsletter that you would be able to use? The ITT should be self-explanatory and provides a link to our website where further details can be found.
> Invitation to Tender
> Web site
---
PUBLICATIONS
| | |
| --- | --- |
| | This Special Issue of the open access Land Journal provide 26 articles edited by Prof Stig Enemark, Dr Robin McLaren and Prof Christiaan Lemmen Read more |
---
A must-see collection item. Reserve your copy of this special edition now.
Read more
---
Upcoming Events
31 March - 2 April 2022 Dubrovnik, Croatia


The 10th Land Administration Domain Model Workshop (LADM 2022)
Online registration form is now open: Registration – VII. CCC & LADM 2022 (hgd1952.hr)
Booking of the hotel is also open via conference website: Venue – VII. CCC & LADM 2022 (hgd1952.hr).
Congress website: https://7ccc2022.hgd1952.hr/
6-8 April 2022, Lviv - Yavoriv - Brukhovychi, Ukraine
The XXVI International Scientific and Technical Conference "GEOFORUM-2022", that will be held on April 6-8, 2022, in Lviv - Yavoriv - Brukhovychi, Ukraine. Read conference flyer
Website: http://zgt.com.ua/en
23-25 May 2022, Moscow, Russian Federation
Annual International Scientific Conference "Spatial Data: science, research and technology 2022".
Web site: https://scidata.ru/en2022
20-22 June 2022, Valencia, Spain
5th Joint International Symposium on Deformation Monitoring (JISDM 2022) in cooperation with FIG Commission 6.
https://jisdm2022.webs.upv.es
11-15 July 2022, San Diego, CA, US
Esri User Conference 2022, the worlds largest GIS conference
Web site: https://www.esri.com/en-us/about/events/uc/save-date
11-15 September 2022, Warsaw, Poland


FIG Congress
Web site: www.fig.net/fig2022
---
Kind regards,
Ms. Louise Friis-Hansen
Director
International Federation of Surveyors
Fédération Internationale des Géomčtres
Internationale Vereiningung der Vermessungsingenieure
International Federation of Surveyors
Kalvebod Brygge 31-33
DK-1780 Copenhagen V
Tel. + 45 3886 1081
Direct: + 45 9391 0810
louise.friis-hansen@fig.net
www.fig.net
FIG Working Week 2024, Accra, Ghana
FIG Working Week 2025, Brisbane, Australia
FIG Congress 2026, Cape Town, South Africa
Subscribe monthly FIG Newsletter
---
FIG on Social Media:




If you have not already joined, join us today...
---
The monthly Newsletter is mailed to all members, commission delegates and all interested partners. FIG offers the Newsletter to all members of member associations and other interested in FIG. If you don't already get your copy you can order it now at: www.fig.net.

FIG Newsletter brings you latest information about FIG and its activities. The information referred here is in full length available on the FIG web site. Thus the Newsletter is produced to inform you what has happened recently and what interesting things are going to take place in the near future. The FIG Newsletter is circulated monthly or bi-monthly by e-mail. The referred articles are in English and written in a way that you are able to extract them to your national newsletters or circulate to your members and networks.

If you do not want to receive the newsletter in the future, please click here to unsubscribe from the mailing list
.
---