News in 2020

FIG President's report 2020
May 2020



FIG President Rudolf Staiger at the General Assembly 2019

Under normal circumstances this report would have been presented at the first General Assembly during the Working Week 2020. Instead, please join FIG President Rudolf Staiger in the written report for this first report for the current term 2019-2022.

The year 2019 was not only the start of the presidency of Rudolf Staiger (Germany); it was also the induction of two new Vice presidents namely Jixiang Zhang (China) and Diane Dumashie (UK) and at the same time the start for ten new Commission Chairs.

The General Assembly was cancelled and postponed to 2021 due to the Covid-19 outbreak that did not allow FIG to carry through the Working Week 2020.

The Presidents report and the General Assembly agenda gives you an overview of what FIG is currently working on. Thank you to all the volunteers who have contributed to this and to all the many employers, organisations and associations who have contributed to give the volunteers the possibility to be involved in the FIG agenda.

General Assembly agenda incl reports from Commissions, Networks, Task Forces, Permanent Institutions and FIG Foundation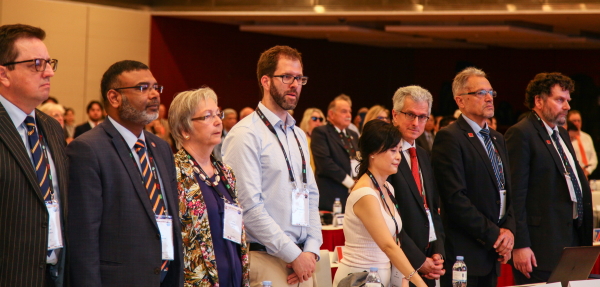 At the FIG General Assembly 2019 during the FIG Fanfare
Louise Friis-Hansen
29 May 2020
©2023 FIG